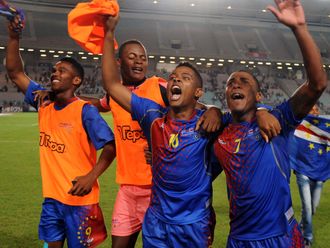 Only a handful of Africa's top 30 nations moved up in the latest FIFA world rankings which were released on Thursday morning.
Steve Biko have withdrawn from the Champions League because of lack of funds, handing Algeria's ES Setif a bye into the next round.
Mamelodi Sundowns are sweating over the health of midfielder Dove Wome, who they believe may have contracted Malaria.
Libya strengthened their position at the top of Group I with a 2-0 victory over Togo in their World Cup qualifier in Tripoli.
Jonathan Pitroipa's headed extra-time goal sealed Burkina Faso's passage to the 2013 Africa Cup of Nations semi-finals at the expense of Togo.
Burkina Faso and Togo will do battle on the imperfect pitch of the Mbombela Stadium for a place in the semi-finals of the 2013 AFCON.
Togo qualified for the knockout phase of the Africa Cup of Nations for the first time in their history following their 1-1 draw with Tunisia.
It's do-or-die for Tunisia on Wednesday when they square up against Togo to fight it out for a spot in the quarter-finals.
Goals from Emmanuel Adebayor and Dove Wome for Togo kept their Africa Cup of Nations hopes alive with a 2-0 win over Algeria on Saturday.
Only victory will give Algeria and Togo a chance to make it to the next round of AFCON after both experienced deflating defeats.
AFCON favourites Ivory Coast got their title march underway with a less than convincing 2-1 win over Togo on Tuesday in Phokeng.
Côte d'Ivoire will want to show their intention early on in AFCON 2013 when they face Togo at the Royal Bafokeng Stadium on Tuesday.
Here we take a look at the path travelled by Togo on their way to the 2013 Africa Cup of Nations finals in South Africa.