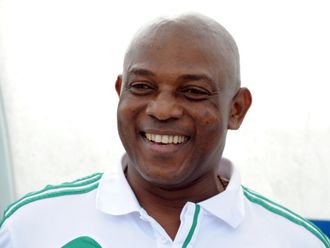 Nigeria head coach Stephen Keshi has praised his players following their commanding victory over hosts Bafana Bafana at CHAN 2014.
Hosts Bafana Bafana have been knocked out in the group stages of CHAN 2014, with Mali and and Nigeria progressing to the quarter-finals.
Zimbabwe and Mozambique played out an uneventful goalless draw in their group B clash in the CHAN at the Athlone Stadium.
Hosts Bafana Bafana got their 2014 CHAN campaign off to a winning start thanks to a 3-1 win over Mozambique in Saturday's opener in Cape Town.
The third edition of the CHAN takes place in South Africa this year, with South Africa, Mali, Mozambique and Nigeria set to battle it out in Group A.
The 2014 edition of CHAN promises to be an interesting spectacle for those who have their eyes on potential rising stars.